Clock Running Out on Antitrust Bill Targeting Big Tech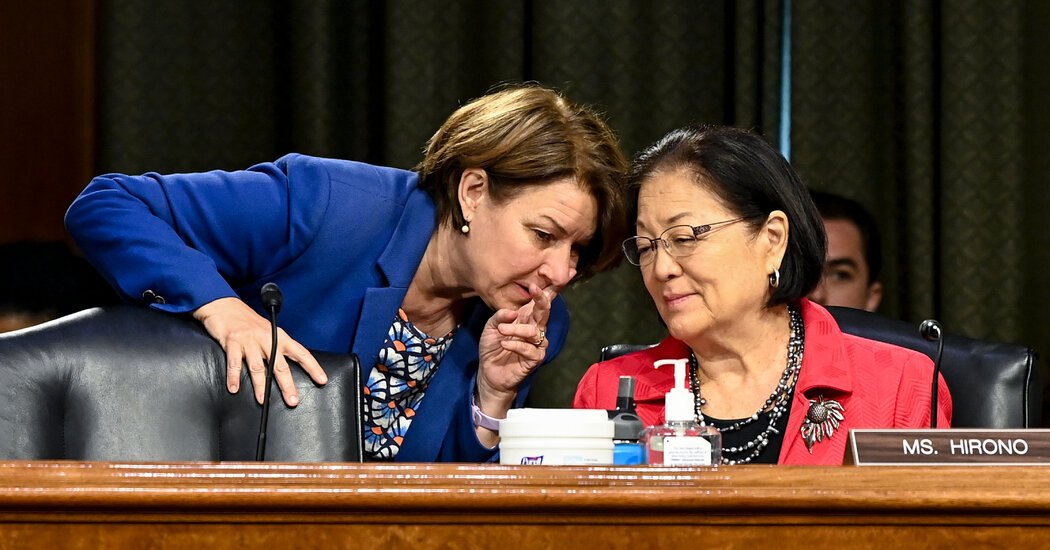 WASHINGTON — Critics of the country's largest tech companies branded the last few months "Hot Antitrust Summer" because they hoped that Congress would vote on new regulations for Amazon, Apple, Google and Facebook.
The legislation's chances of passing before Labor Day melted away instead. The Senate is expected to take up one last major matter of business before its August recess, debating and voting on the Democrats' large climate, tax and health care package.
The failure to secure a vote is a setback for the politicians, activists and regulators who believe that Big Tech has too much control over commerce, communications and culture. After Labor Day, Washington will turn much of its attention to the midterm elections instead of major legislation. And if Republicans regain the majority in Congress, the regulations have a far smaller chance of being taken up.
"One of the senators actually said to me, 'Maybe you're just ahead of your time,'" Senator Amy Klobuchar, a Minnesota Democrat and the main driver of the legislation, said in an interview. "And I said to them, 'Yeah, but being ahead of your time doesn't mean that your time hasn't come.' And at some moment your time comes."
Supporters of Ms. Klobuchar's bill, called the American Innovation and Choice Online Act, argue that a national update to antitrust law would allow smaller businesses to thrive by reining in big tech companies. The bill would bar the companies from prioritizing their own services over those of their rivals. So Amazon, for example, could not show its own Amazon Basics batteries before those made by Duracell, and Google might have to put its own restaurant reviews on par with sites like Yelp in search results.
Read More on Facebook and Meta
The bill's backers cheered in May when Senator Chuck Schumer, the Democratic majority leader, said privately that he would put it up for a vote early in the summer. It was approved by the Judiciary Committee with bipartisan support, and Ms. Klobuchar and Senator Chuck Grassley of Iowa, her primary Republican co-sponsor, said they had the votes for the legislation to succeed if the full Senate voted on it.
The tech companies poured tens of millions of dollars into lobbying against the bill. Groups funded by the companies put ads on the air in swing states, saying the legislation was ill-advised at a time of rampant inflation. The chief executives of Google, Apple and Amazon all personally lobbied against the bill.
The industry also argued that there could be unintended consequences for speech online, as the bill could be interpreted as also limiting how much these companies can moderate content, including hateful posts. The bill's supporters say their concerns are unfounded, but four Democratic senators in June called for amending the bill to ensure it was not misinterpreted.
Supporters of the bill have tried to continue putting pressure on Mr. Schumer to bring it up for a vote, highlighting work his children have done for the big tech companies.
They argued that if lawmakers had to vote on the bill, it would pass. But last month at a fund-raiser, Mr. Schumer said he didn't believe the measure had the 60 votes to overcome a filibuster. And he said he would not put it on the floor until he had a better sense that it could pass, said a person with knowledge of his comments, who would speak only anonymously because the discussion was private. Mr. Schumer's comments were first reported by Bloomberg.
"All I can tell you is that Klobuchar was very disappointed when she was led to believe it was going to be brought up in this time frame and it's not brought up, and we don't have a lot of time between now and the election," Mr. Grassley said in an interview.
Other priorities in the Senate like the climate, energy and tax package brokered between Senator Joe Manchin III, Democrat of West Virginia, and Mr. Schumer have also brushed antitrust matters aside. Before the surprise reconciliation deal on that bill, slow work on a veteran health care bill, a sweeping gun control measure and a chip manufacturing bill dominated the legislative calendar.
Some of the bill's co-sponsors said the bill was a low priority for them as they prepared to leave Capitol Hill for the month. Senator Mazie Hirono, Democrat of Hawaii, said she was focusing on legislation that was being discussed before the August recess.
Ms. Klobuchar said that she had spoken with Mr. Schumer and discussed putting the bill up for a vote in the fall.
"I think he's committed to working on this and getting this through," she said. There is also a similar proposal in the House of Representatives that has bipartisan support.
A spokesman for Mr. Schumer said in a statement that the majority leader was "working with Senator Klobuchar and other supporters to gather the needed votes and plans to bring it up for a vote."
Sarah Miller, the executive director of the liberal American Economic Liberties Project, said that should the efforts to pass a new antitrust law in Washington fizzle, it would only make the role of agencies like the Federal Trade Commission, which sued to block Meta's acquisition of a virtual reality company last month, and state lawmakers more important in reining in Big Tech.
"Fortunately there's not only one sheriff in town," she said, "although I think Congress's ability to directly promote fairness and competition in digital markets will continue to be an essential project."


Read the full article here
A Tax Loophole's Powerful Defender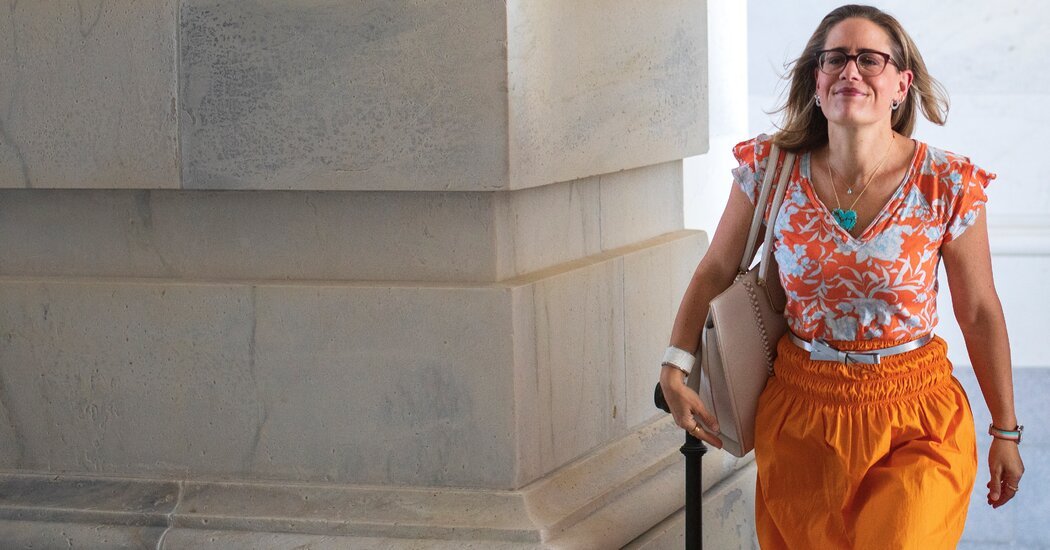 Why does Sinema like the carried interest loophole?
Sinema is in. But a plan to close a big tax loophole is out.
Last night, Senator Kyrsten Sinema, Democrat of Arizona, announced her support for the Inflation Reduction Act — the climate, tax and health care package that would spend about $300 billion, and raise taxes by roughly the same amount, over 10 years. With Sinema on board, the bill is likely to move quickly through the Senate.
Sinema had one main request before she would sign on: Remove a provision that would have partly closed the carried interest loophole. This bit of wiggle room in the tax code mainly benefits private equity professionals, allowing them to pay lower investment tax rates on compensation that should almost certainly be considered ordinary income. The loophole's expected survival is being cheered by the private equity and real estate industries, but it is also causing a lot of head-scratching.
Sinema has been silent on why she considers preserving the carried interest loophole so important. She helped prevent a similar measure from being included in the Build Back Better bill last year. But there appears to be little public record of Sinema discussing why she supports special tax treatment for carried interest. According to a search of the Congressional Record, Sinema has apparently never uttered the phrase "carried interest" in a public legislative session.
But Sinema has voiced her support for private equity. On the House floor in 2016 when she was a representative, she said that private equity investors "provide billions of dollars each year to Main Street businesses," and that this investment helped support "130,000 workers and their families" in Arizona alone.
There has been bipartisan interest in closing the loophole. Both President Biden and former President Donald Trump tried to do so. Many on Wall Street, including Jamie Dimon, chief executive of JPMorgan Chase, and Robert Rubin, a former Treasury secretary, have called for its end. And there is little evidence to back up the industry's claim that a tax break for managers of private equity funds creates more companies and jobs.
Some speculate that campaign contributions swayed Sinema. In the past five years, Sinema has received $2.2 million from investment firms, according to Open Secrets. KKR and Goldman Sachs are among her top contributors. Still, that's far less than what Senator Chuck Schumer of New York, the majority leader, receives in Wall Street contributions, and he supported the bill's original carried interest fix. Even Mark Kelly, a Democrat and Arizona's other senator, has raised more from Wall Street in the current election cycle than Sinema. But Sinema isn't running for office again until 2024, while Kelly faces a race this year.
HERE'S WHAT'S HAPPENING
China halts some cooperation with the U.S. after Speaker Nancy Pelosi's Taiwan visit. It is canceling planned meetings with the Defense Department as well as talks on maritime safety and climate. Japan condemned China for its military exercises near Taiwan, and Pelosi, visiting Japan, responded defiantly to the rising tensions.
Republican state treasurers are "weaponizing" public office against climate change. An investigation by The Times's David Gelles uncovered a campaign to thwart regulations aimed at shifting to sustainable energy, advanced by the State Financial Officers Foundation, a little-known nonprofit group. It has been pushing officials to promote oil and gas interests, in part by cutting off financial institutions that "discriminate" against the fossil fuel industry.
A consumer watchdog scrutinizes Goldman Sachs's account management practices. The bank said its credit card unit was being investigated by the C.F.P.B. for its handling of refunds and billing disputes, among other things. Goldman started offering a card with Apple in 2019 in an effort to diversify into retail banking.
What's in the Democrats' Climate and Tax Bill
---
Card 1 of 6
A new proposal. The $369 billion climate and tax package that Senate Democrats proposed in July could have far-reaching effects on the environment and the economy. Here are some of the key provisions:
Warner Bros. Discovery is pivoting to the traditional. It reported a loss of $3.4 billion in its first full quarter as a merged company. Its C.E.O., David Zaslav, said it would adopt a "more sensible" approach to budgets after a Netflix-induced era of excess. The company will combine its two main streaming services, HBO Max and Discovery+, and may create an ad-supported offering.
The Twitter deal's competing narratives
Yesterday, both Elon Musk's counterclaims against Twitter and its response to him were made public. The two sides largely dug in their heels on their respective arguments, with some fine-tuning. But the filings also include retellings of the deal narrative from both points of view, and — despite Musk and Twitter having agreed to a recap of how it all came together as part of their joint proxy agreement — their memories now notably diverge.
Here's a play-by-play of the weeks leading up the deal, as both sides see it:
Musk buys up shares in Twitter starting in January. Musk says it all began because of his faith in the company, according to the filing: "Despite his growing concerns with the company's direction, he still believed in Twitter as a product — one that provided a necessary public good while still offering significant untapped opportunity for monetization." (The S.E.C. is looking into whether Musk's early investments in Twitter were truly passive.)
Musk says he's joining the Twitter board on April 5. Musk says Jack Dorsey and the Twitter board asked him to join: "Musk was hesitant at first, but listened to their pitches over the next couple weeks." Twitter said in its proxy that joining the board was one of three paths Musk had told Twitter he planned to pursue with his stake — presumably the one that was the least threatening.
Musk rejects the board seat on April 9. Musk says he "eventually realized that Twitter's current management was not up to the task of fixing Twitter" and he "would need more than a single board seat." Twitter says he was rash: "Musk abruptly changed his mind about joining Twitter's board (after first negotiating an offer to join the board, accepting it in writing, and Tweeting that he was "looking forward" to taking the position)."
Musk offers $54.20 a share to buy Twitter on April 14. Musk said this was what his bankers at Morgan Stanley told him the company was worth, using a model based "in significant part" on Twitter's daily active user count ("mDAU"). Twitter says in its response that Musk "invented" his reliance on those disclosures, noting that it earns the bulk of its revenue from advertisers who focus on the return on investment from their campaigns.
The two sign a deal at warp speed within two weeks. Musk said Twitter moved fast because it knew it would soon be restating its user count, which "would have likely caused the Musk Parties to ask further questions that could delay the signing of the Merger Agreement." Twitter says in its proxy that it was Musk who pushed Twitter to sell quickly: On April 24, Musk told Twitter's chair, Bret Taylor, that he was sending over a draft merger agreement so they could have a deal by the next day's stock market open. In its response to Musk's claims, Twitter writes: "Musk sought an urgent deal, undertook no due diligence, and offered a self-described 'seller friendly' merger agreement that contained no representations about false or spam accounts or mDAU."
---
"You've noticed I've said the word connection about 20 times. It's so crucial to the psychological safety that every person — doesn't matter if you're young or old — needs right now in a very anxious time."
— Claude Silver, the "chief heart officer" at the agency VaynerMedia. The pandemic and remote work have led to an increase in unusual job titles.
---
Credit card companies cut additional ties to Pornhub
Visa and Mastercard are suspending credit card payments for advertising on Pornhub, a site that has put the companies at the center of a yearslong controversy over potential complicity in illegal activity.
As DealBook reported earlier, a California federal court last Friday declined to dismiss Visa from a case brought by a woman who struggled to have sexually abusive videos, taken of her as an underage teen, removed from Pornhub. The suit argues that Visa helped monetize the illegal content via advertising, even though it has blocked the use of Visa cards for payments on Pornhub since 2020.
The legal decision has "created new uncertainty" about the role of TrafficJunky, the advertising arm of Pornhub's parent company, MindGeek, Al Kelly, Visa's C.E.O. and chairman, wrote in a company blog post yesterday. "Accordingly, we will suspend TrafficJunky's Visa acceptance privileges based on the court's decision until further notice," he wrote. Kelly also said that his company condemned "sex trafficking, sexual exploitation and child sexual abuse."
Mastercard put up its guard. Not a party to the suit but perhaps anticipating future litigation, it told DealBook in a statement that it was also blocking payments to TrafficJunky. "New facts from last week's court ruling made us aware of advertising revenue outside of our view that appears to provide Pornhub with indirect funding," a spokesman said. Like Visa, Mastercard halted direct payments on Pornhub after Nicholas Kristof highlighted credit card companies' ties to the site in a Times Opinion piece.
The pressure has been on ever since, not least from Bill Ackman, the founder of the hedge fund Pershing Square Capital Management, who is campaigning for accountability. "I just learned that @discovercard is still providing payment services to MindGeek despite @Visa and @Mastercard's suspension," Ackman tweeted yesterday. "This needs to stop now!" Discover did not comment in time for publication.
THE SPEED READ
Deals
Coinbase and BlackRock are joining forces, connecting platforms so BlackRock clients can easily access the crypto exchange. (FT)

Halliday, a buy-now-pay-later start-up for financing blockchain game purchases, gets $6 million in a seed round led by Andreessen Horowitz. (TechCrunch)
Policy
Best of the rest
David F. Gallagher contributed to today's DealBook.
We'd like your feedback! Please email thoughts and suggestions to dealbook@nytimes.com.


Read the full article here
The jobs report suggests President Biden is right about a recession.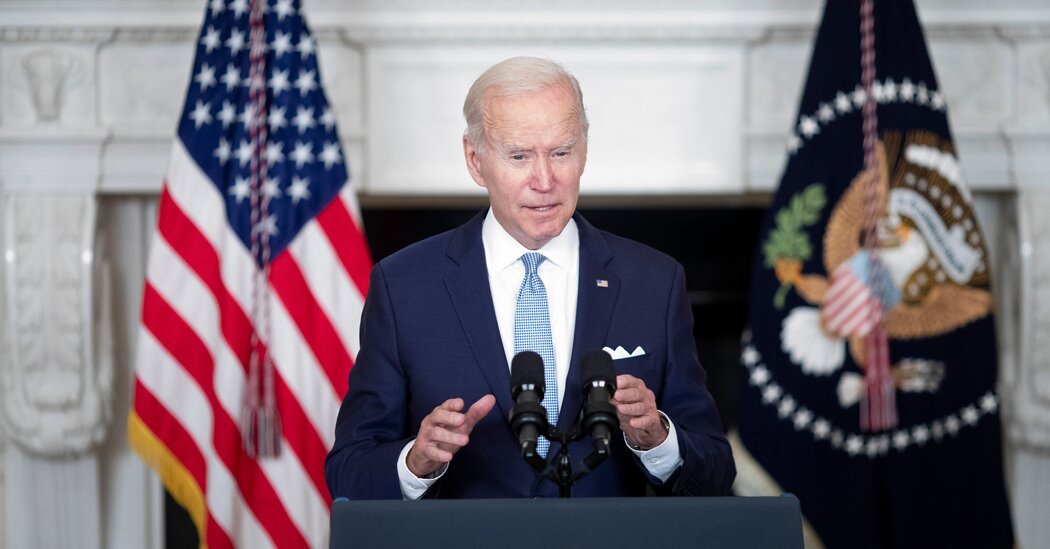 The strong jobs report was welcome news for President Biden, who has insisted in recent weeks that the United States is not in recession, even though it has suffered two consecutive quarters of economic contraction.
But the report also defied even the president's own optimistic expectations about the state of the labor market — and appeared to contradict the administration's theory of where the economy is headed.
Mr. Biden celebrated the report on Friday morning. "Today, the unemployment rate matches the lowest it's been in more than 50 years: 3.5 percent," he said in a statement. "More people are working than at any point in American history."
He added: "There's more work to do, but today's jobs report shows we are making significant progress for working families."
The president has said for months that he expects job creation to slow soon, along with wage and price growth, as the economy transitions to a more stable state of slower growth and lower inflation.
"If average monthly job creation shifts in the next year from current levels of 500,000 to something closer to 150,000," Mr. Biden wrote in an opinion piece for The Wall Street Journal in May, "it will be a sign that we are successfully moving into the next phase of recovery — as this kind of job growth is consistent with a low unemployment rate and a healthy economy."
White House officials prepped reporters this week for the possibility that job growth was cooling, in line with Mr. Biden's expectations. The expectations-busting job creation number appeared to surprise them, again.
But Mr. Biden will almost certainly cite the numbers as evidence that the economy is nowhere near recession. He and his aides have repeatedly said in recent weeks that the current pace of job creation is out of step with the jobs numbers in previous recessions, and proof that a contraction in gross domestic product does not mean the country is mired in a downturn.
Read the full article here
Amazon to Buy Maker of the Roomba for $1.7 Billion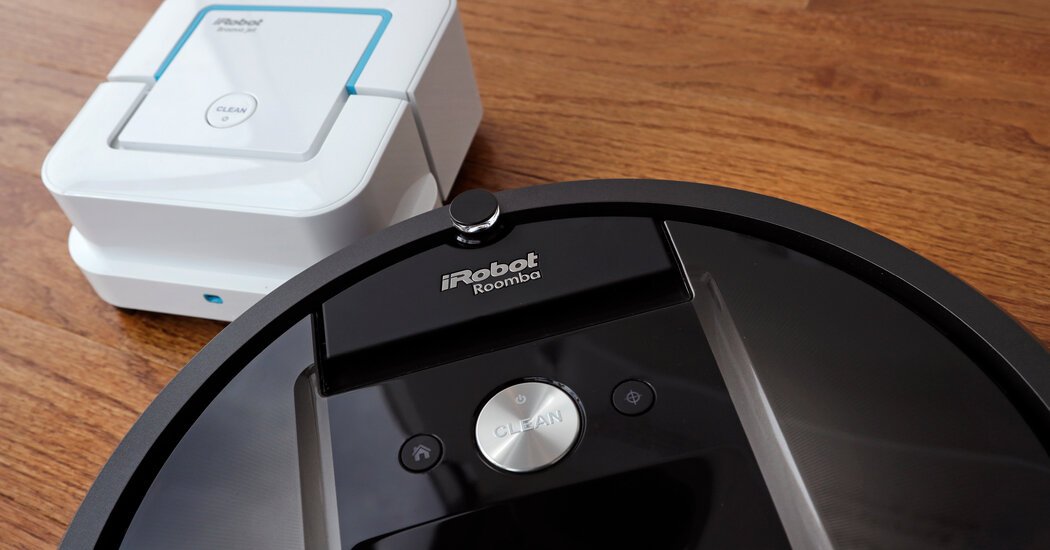 Hey, Alexa, tell Roomba to vacuum the bedroom.
Amazon announced on Friday that it had reached an agreement to buy iRobot Corp., the maker of the Roomba robotic vacuum, for $1.7 billion, adding to its growing roster of smart home products.
"We know that saving time matters, and chores take precious time that can be better spent doing something that customers love," Dave Limp, senior vice president of Amazon Devices, said in a statement announcing the acquisition.
Amazon will acquire iRobot, including its debt, for $61 per share in an all-cash transaction, according to the statement. The purchase would be Amazon's fourth-largest acquisition after the company bought Whole Foods for $13.7 billion in 2017 and the movie studio MGM for $8.5 billion last year. Last month, Amazon announced a foray into medical services with an agreement to spend $3.9 billion to acquire One Medical, a chain of primary care clinics around the United States.
The Roomba and iRobot's other cleaning devices, including robotic mops and air purifiers, join a portfolio of Amazon-owned smart home devices that includes Ring doorbells and Alexa, Amazon's virtual assistant and speaker. iRobot also makes an educational robot called Root that allows children to experiment with coding.
The Roomba first hit dirty floors in 2002, to the delight of lazy people and the bemusement of pets, particularly cats. The New York Times described it as "easy, effective and fun," and a product that quickly became "a member of the household."
The $200 early version struggled around corners and chair legs, even falling down stairs. But 20 years later, the Roomba j7 can, according to the company, recognize over 80 common objects (including cords and pet waste), returns to its dock once its chores are complete and then empties itself. The most expensive option sells for $999.99.
While iRobot is best known for its roving cleaning equipment, the technology powering these tools is also sucking up troves of spatial data used to map users' homes. Some digital rights groups have expressed concern that this data could help companies like Amazon find out information about the size of homes and even their contents, right down to the brand.
iRobot reported $255.4 million in revenue in the second quarter of 2022, a 30 percent decrease over the previous year. Amazon reported $121.2 billion in revenue in the second quarter, up 7.2 percent from a year earlier but down slightly from the 7.3 percent revenue growth it reported in the first quarter of this year. It was Amazon's slowest growth in more than two decades after the company began to come down from its high pandemic demands.
Read the full article here