Drop Box for Babies: Conservatives Promote a Way to Give Up Newborns Anonymously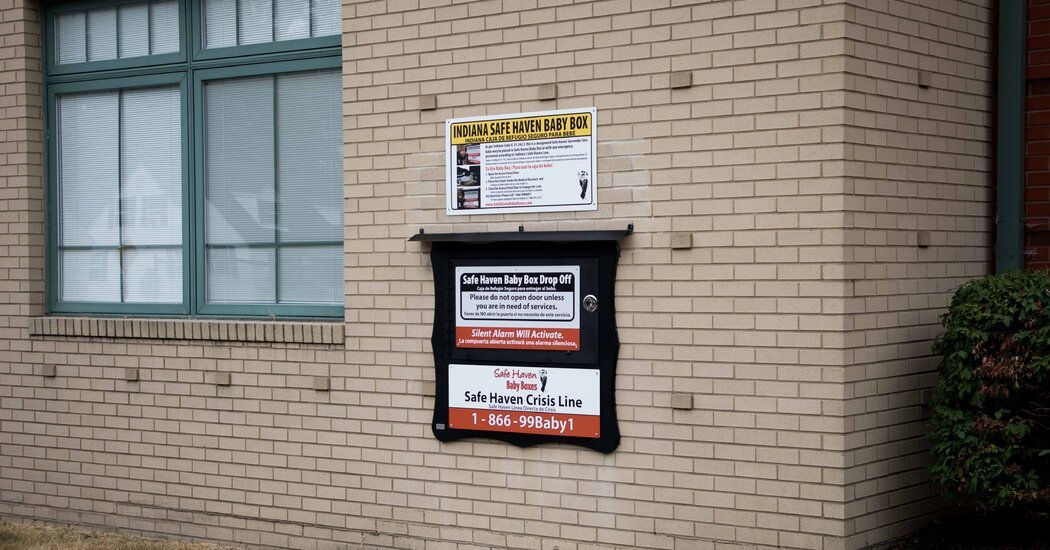 The Safe Haven Baby Box at a firehouse in Carmel, Ind., looked like a library book drop. It had been available for three years for anyone who wanted to surrender a baby anonymously.
No one had ever used it, though, until early April. When its alarm went off, Victor Andres, a firefighter, opened the box and found, to his disbelief, a newborn boy wrapped in towels.
The discovery made the local TV news, which praised the courage of the mother, calling it "a time for celebration." Later that month, Mr. Andres pulled another newborn, a girl, from the box. In May, a third baby appeared. By summer, three more infants were left at baby box locations throughout the state.
The baby boxes are part of the safe haven movement, which has long been closely tied to anti-abortion activism. Safe havens offer desperate mothers a way to surrender their newborns anonymously for adoption, and, advocates say, avoid hurting, abandoning or even killing them. The havens can be boxes, which allow parents to avoid speaking to anyone or even being seen when surrendering their babies. More traditionally, the havens are locations such as hospitals and fire stations, where staff members are trained to accept a face-to-face handoff from a parent in crisis.
All 50 states have safe haven laws meant to protect surrendering mothers from criminal charges. The first, known as the "Baby Moses" law, was passed in Texas in 1999, after a number of women abandoned infants in trash cans or dumpsters. But what began as a way to prevent the most extreme cases of child abuse has become a broader phenomenon, supported especially among the religious right, which heavily promotes adoption as an alternative to abortion.
Over the past five years, more than 12 states have passed laws allowing baby boxes or expanding safe haven options in other ways. And safe haven surrenders, experts in reproductive health and child welfare say, are likely to become more common after the Supreme Court's decision to overturn Roe v. Wade.
During oral arguments in the case Dobbs v. Jackson Women's Health Organization, Justice Amy Coney Barrett suggested that safe haven laws offered an alternative to abortion by allowing women to avoid "the burdens of parenting." In the court's decision, Justice Samuel A. Alito Jr. cited safe haven laws as a "modern development" that, in the majority's view, obviated the need for abortion rights.
But for many experts in adoption and women's health, safe havens are hardly a panacea.
To them, a safe haven surrender is a sign that a woman fell through the cracks of existing systems. They may have concealed their pregnancies and given birth without prenatal care, or they may suffer from domestic violence, drug addiction, homelessness or mental illness.
The adoptions themselves could also be problematic, with women potentially unaware that they are terminating parental rights, and children left with little information about their origins.
More Coverage of the Kansas Abortion Vote
If a parent is using a safe haven, "there's been a crisis and the system has already in some way failed," said Ryan Hanlon, president of the National Council for Adoption.
Boosting the Movement
Save haven surrenders are still rare. The National Safe Haven Alliance estimates that 115 legal surrenders took place in 2021. In recent years, there have been over 100,000 domestic adoptions annually, and more than 600,000 abortions. Studies show that the vast majority of women denied an abortion are uninterested in adoption and go on to raise their children.
But the safe haven movement has become much more prominent, in part because of a boost from a charismatic activist with roots in anti-abortion activism, Monica Kelsey, founder of Safe Haven Baby Boxes.
With Ms. Kelsey and allies lobbying across the country, states like Indiana, Iowa and Virginia have sought to make safe haven surrenders easier, faster and more anonymous — allowing older babies to be dropped off, or allowing relinquishing parents to leave the scene without speaking to another adult or sharing any medical history.
Some who work with safe haven children are concerned about the baby boxes, in particular. There are now more than 100 across the country.
"Is this infant being surrendered without coercion?" asked Micah Orliss, director of the Safe Surrender Clinic at Children's Hospital Los Angeles. "Is this a parent who is in a bad spot and could benefit from some time and discussion in a warm handoff experience to make their decision?"
Ms. Kelsey is a former medic and firefighter, and an adoptee who says she was abandoned at birth by her teenage mother, who had been raped.
She first encountered a baby "safe" — a concept dating back to medieval Europe — on a 2013 trip to a church in Cape Town, South Africa, where she was on a pro-abstinence speaking tour.
She returned home to Indiana to found a nonprofit, Safe Haven Baby Boxes, and installed her first baby box in 2016.
To use one of Ms. Kelsey's boxes, a parent pulls open a metal drawer to reveal a temperature-controlled hospital bassinet. Once the baby is inside and the drawer is closed, it locks automatically; the parent cannot reopen it. An alarm is triggered and the facility's staff members can access the bassinet. The box also sends out a 911 call. Twenty-one babies have been left in the boxes since 2017, and the average amount of time a child is inside the box is less than two minutes, Ms. Kelsey said.
She has raised money to put up dozens of billboards advertising the safe haven option. The advertisements feature a photo of a handsome firefighter cradling a newborn, and the Safe Haven Baby Box emergency hotline number.
Ms. Kelsey said she was in contact with legislators across the country who wanted to bring the boxes to their regions, and predicted that within five years, her boxes would be in all 50 states.
"We can all agree a baby should be placed in my box and not in a dumpster to die," she said.
Because of the anonymity, there is limited information about the parents who use safe havens. But Dr. Orliss, of the Los Angeles safe haven clinic, performs psychological and developmental evaluations on some 15 such babies annually, often following them through their toddler years. His research found that more than half the children have health or developmental issues, often stemming from inadequate prenatal care. In California, unlike in Indiana, safe haven surrenders must be done face-to-face, and parents are given an optional questionnaire on medical history, which often reveals serious problems such as drug use.
Still, many children do well. Tessa Higgs, 37, a marketing manager in southern Indiana, adopted her 3-year old daughter, Nola, after the girl was dropped off at a safe haven just hours after her birth. Ms. Higgs said the biological mother had called the Safe Haven Baby Box hotline after seeing one of the group's billboards.
"From day one, she has been so healthy and happy and thriving and exceeding all developmental milestones," Ms. Higgs said of Nola. "She's perfect in our eyes."
Legal Gray Areas
For some women seeking help, the first point of contact is the Safe Haven Baby Box emergency hotline.
That hotline, and another maintained by the Safe Haven National Alliance, tell callers where and how they can legally surrender children, along with information about the traditional adoption process.
Safe haven groups say they inform callers that anonymous surrenders are a last resort, and give out information on how to keep their babies, including ways to get diapers, rent money and temporary child care.
"When a woman is given options, she will choose what's best for her," Ms. Kelsey said. "And if that means that in her moment of crisis she chooses a baby box, we should all support her in her decision."
But Ms. Kelsey's hotline does not talk about the legal time constraints for reunifying with the baby unless callers ask for it, she said.
In Indiana, which has the majority of baby boxes, state law does not specify a timeline for terminating birth parents' rights after safe haven surrenders, or for adoption. But according to Don VanDerMoere, the prosecutor in Owen County, Ind., who has experience with infant abandonment laws in the state, biological families are free to come forward until a court terminates parental rights, which can occur 45 to 60 days after an anonymous surrender.
Because these relinquishments are anonymous, they typically lead to closed adoptions. Birth parents are unable to select the parents, and adoptees are left with little to no information about their family of origin or medical history.
Mr. Hanlon, of the National Council for Adoption, pointed to research showing that over the long term, birth parents feel more satisfied about giving up their children if biological and adoptive families maintain a relationship.
And in safe haven cases, if a mother changes her mind, she must prove to the state that she is fit.
According to Ms. Kelsey, since her operation began, two women who said they had placed their infants in boxes have tried to reclaim custody of their children. Such cases can take months or even years to resolve.
Birth mothers are also not immune from legal jeopardy, and may not be able to navigate the technicalities of each state's safe haven law, said Lori Bruce, a medical ethicist at Yale.
While many states protect surrendering mothers from criminal prosecution if babies are healthy and unharmed, mothers in severe crisis — dealing with addiction or domestic abuse, for example — may not be protected if their newborns are in some way affected.
The idea of a traumatized, postpartum mother being able to "correctly Google the laws is slim," Ms. Bruce said.
With the demise of Roe, "we know we are going to see more abandoned babies," she added. "My concern is that means more prosecutors are going to be able to prosecute women for having unsafely abandoned their children — or not following the letter of the law."
That said, the movement continues apace.
Ms. Higgs, the adoptive mother, has stayed in touch with Monica Kelsey of Safe Haven Baby Boxes. "The day that I found out about Roe vs. Wade, I texted Monica and was like, 'Are you ready to get even busier?'"
Read the full article here
MAN ON A MISSION: Jackson State Football Coach Deion Sanders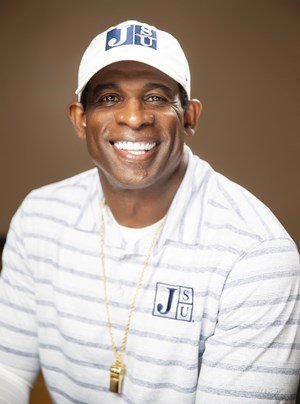 (JACKSON, MS) – His name is being heard all over the football world. This time, he's not the star player. This time, Deion Sanders is the coach. And he is the coach at an HBCU, Jackson State. The school's history goes back to 1877 in Natchez, Mississippi.
Natchez has a wicked history. Thousands of Blacks were buried there in a mass grave now covered by peaches.
Nonetheless, it is simply wonderful that Coach Sanders has lent himself to such a worthy effort. His sharing of his expertise with the young people in the football program speaks volumes.
According to the Tigers' website: "Deion Sanders has always been a game-changer. In his tenure as Head Football Coach of Jackson State University, Sanders has again changed the game for Tiger Football, the Department of Athletics, the University as a whole, the Southwestern Athletic Conference, College Football, and the Nation.
An unprecedented calendar year of 2021 showed the power of the influence of Sanders and the brand of Jackson State University coming together as one, seemingly in perfect alignment.
As the Southwestern Athletic Conference played a spring 2021 football season due to the coronavirus, the number 21 Sanders donned on his way to a Pro Football Hall of Fame career became immersed at JSU.
Sanders, named as the 21st head coach in the proud history of JSU football on September 21, 2020, led the Tigers in his first game as head coach on February 21, 2021. A 53-0 win began the Coach Prime era that was a touch point of the elevation of JSU football and the University into becoming one of the most impactful and recognizable brands nationwide." READ MORE
Team Dream: 82 AND 77-YEAR OLD BLACK FEMALE SWIMMERS MAKE HISTORY AFTER COMPETING IN NATIONAL SENIOR GAMES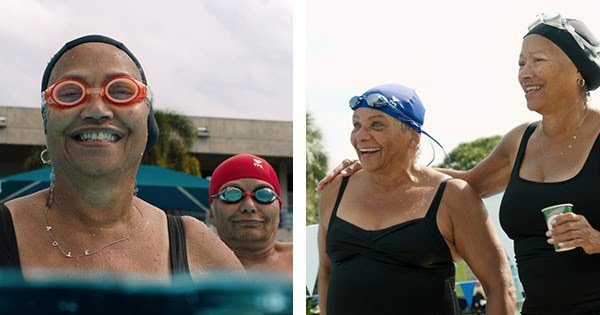 (PLANTATION, FL) – Ann Smith (age 82) and Madeline Murphy Rabb (age 77) are two African American swimmers who recently competed in the 2022 National Senior Games and were the only Black women to compete in their age group.
Their love for swimming is deep and is a part of a documentary film profiling their passion for swimming as girls who didn't let barriers to swimming stop them from seeking their sports dreams. Their story is a reminder of the days of segregation where Blacks often could not swim in pools saved for whites.
A documentary short called Team Dream from award-winning filmmaker Luchina Fisher follows their story and will debut at Martha's Vineyard African American Film Festival in August (and then on BET in the fall) thanks to Procter & Gamble's initiative Widen the Screen and Queen Collective.
Despite being omitted from the history books, Africans and African Americans have a long history of swimming. Team Dream sheds light on the lack of access to pools for Blacks during segregation that resulted in fewer Blacks learning how to swim.
About the Director
Luchina Fisher is an award-winning writer, director, and producer whose work is at the intersection of race, gender, and identity. She can discuss why this film is important to her, how she found Ann and Madeline, and the importance of breaking down the stereotype that "Blacks can't swim."
About Widen The Screen
Widen The Screen is an expansive content creation, talent development, and partnership platform that celebrates creativity and enables Black creators to share the full richness of the Black experience. "Only when we Widen The Screen to Widen Our Views can we all broaden the spectrum of images we see, the voices we hear, the stories we tell, and the people we understand."
About Queen Collective
In 2018, P&G, Queen Latifah, Flavor Unit Entertainment, and Tribeca Studios launched the Queen Collective, a mentoring and talent development program designed to give women filmmakers of color a platform to share important stories from their unique perspectives. Now in its fourth year, the Queen Collective is enabling a record number of female directors and other creatives to produce their original documentaries and scripted pieces to share their perspectives through film.
Liz Cheney Is Ready to Lose. But She's Not Ready to Quit.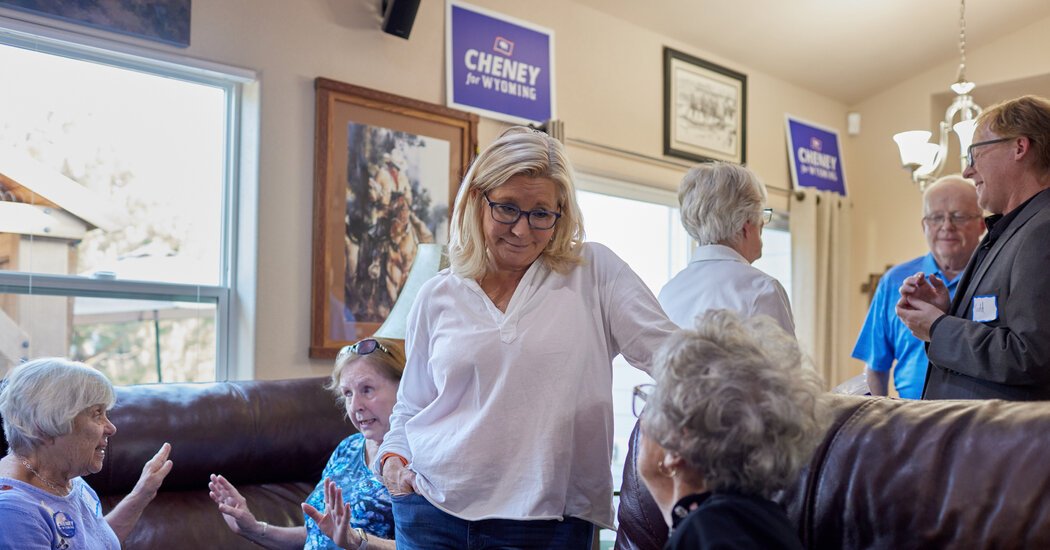 CHEYENNE, Wyo. — It was just over a month before her primary, but Representative Liz Cheney of Wyoming was nowhere near the voters weighing her future.
Ms. Cheney was instead huddled with fellow lawmakers and aides in the Capitol complex, bucking up her allies in a cause she believes is more important than her House seat: Ridding American politics of former President Donald J Trump and his influence.
"The nine of us have done more to prevent Trump from ever regaining power than any group to date," she said to fellow members of the panel investigating Mr. Trump's involvement in the Jan. 6 Capitol attack. "We can't let up."
The most closely-watched primary of 2022 has not become much of a race at all. Polls show Ms. Cheney losing badly to her rival, Harriet Hageman, Mr. Trump's vehicle for revenge, and the congresswoman has been all but driven out of her Trump-loving state, in part because of death threats, her office says.
Yet for Ms. Cheney, the race stopped being about political survival months ago. Instead, she's used the Aug. 16 contest as a sort of a high-profile stage for her martyrdom — and a proving ground for her new crusade. She used the only debate to tell voters to "vote for somebody else" if they wanted a politician who would violate their oath of office. Last week, she enlisted her father, former Vice President Dick Cheney, to cut an ad calling Mr. Trump a "coward" who represents the greatest threat to America in the history of the republic.
In a state where Mr. Trump won 70 percent of the vote two years ago, Ms. Cheney might as well be asking ranchers to go vegan.
"If the cost of standing up for the Constitution is losing the House seat, then that's a price I'm willing to pay," she said in an interview this week in the conference room of a Cheyenne bank.
The 56-year-old daughter of a politician who once had visions of rising to the top of the House leadership — but landed as vice president instead — has become arguably the most consequential rank-and-file member of Congress in modern times. Few others have so aggressively used the levers of the office to attempt to reroute the course of American politics — but, in doing so, she has effectively sacrificed her own future in the institution she grew up to revere.
Ms. Cheney's relentless focus on Mr. Trump has driven speculation — even among longtime family friends — that she is preparing to run for president. She has done little to dissuade such talk.
At a house party Thursday night in Cheyenne, with former Vice President Dick Cheney happily looking on under a pair of mounted leather chaps, the host introduced Ms. Cheney by recalling how another Republican woman, Maine Senator Margaret Chase Smith, confronted Senator Joseph McCarthy when doing so was unpopular — and went on to become the first female candidate for president from a major party.
The attendees applauded at the parallel, as Ms. Cheney smiled.
In the interview, she said she was focused on her primary — and her work on the committee. But it's far from clear that she could be a viable candidate in the current Republican Party, or whether she has interest in the donor-class schemes about a third-party bid, in part because she knows it may just siphon votes from a Democrat opposing Mr. Trump.
Ms. Cheney said she had no interest in changing parties: "I'm a Republican." But when asked if the G.O.P. she was raised in was even salvageable in the short term, she said: "It may not be" and called her party "very sick."
Understand the Aug. 2 Primary Elections
While the Trump wing of the Republican Party flexed its muscle, voters in deep-red Kansas delivered a loud warning to the G.O.P. on abortion rights.
The party, she said, "is continuing to drive itself in a ditch and I think it's going to take several cycles if it can be healed."
Ms. Cheney suggested she was animated as much by Trumpism as Mr. Trump himself. She could support a Republican for president in 2024, she said, but her redline is a refusal to state clearly that Mr. Trump lost a legitimate election in 2020.
Asked if the ranks of off-limits candidates included Gov. Ron DeSantis of Florida, whom many Republicans have latched onto as a Trump alternative, she said she "would find it very difficult" to support Mr. DeSantis in a general election.
"I think that Ron DeSantis has lined himself up almost entirely with Donald Trump, and I think that's very dangerous," Ms. Cheney said.
It's easy to hear other soundings of a White House bid in Ms. Cheney's rhetoric.
In Cheyenne, she channeled the worries of "moms" and what she described as their hunger for "somebody's who's competent." Having once largely scorned identity politics — Ms. Cheney was only the female lawmaker who wouldn't pose for a picture of the women of Congress after 2018 — she now freely discusses gender and her perspective as a mother.
"These days, for the most part, men are running the world, and it is really not going that well," she said in June when she spoke at the Ronald Reagan Presidential Library in Simi Valley, Calif.
In a sign that Ms. Cheney's political awakening goes beyond her contempt for Mr. Trump, she said she prefers the ranks of Democratic women with national security backgrounds to her party's right flank.
"I would much rather serve with Mikie Sherrill and Chrissy Houlahan and Elissa Slotkin than Marjorie Taylor Greene and Lauren Boebert, even though on substance certainly I have big disagreements with the Democratic women I just mentioned," Ms. Cheney said in the interview. "But they love this country, they do their homework and they are people that are trying to do the right thing for the country."
Ms. Cheney is surer of her diagnosis for what ails the G.O.P. than she is of her prescription for reform.
She has no post-Congress political organization in waiting and has benefited from Democratic donors, whose affections may be fleeting. To the frustration of some allies, she has not expanded her inner circle beyond family and a handful of close advisers. Never much of a schmoozer, she said she longed for what she recalled as her father's era of policy-centric politics.
"What the country needs are serious people who are willing to engage in debates about policy," Ms. Cheney said.
It's all a far cry from the Liz Cheney of a decade ago, who had a contract to appear regularly on Fox News and would use her perch as a guest host for Sean Hannity to present her unswerving conservative views and savage former President Barack Obama and Democrats.
Today, Ms. Cheney doesn't concede specific regrets about helping to create the atmosphere that gave rise to Mr. Trump's takeover of her party. She did, however, acknowledge a "reflexive partisanship that I have been guilty of" and noted Jan. 6 "demonstrated how dangerous that is."
Few lawmakers today face those dangers as regularly as Ms. Cheney, who has had a full-time Capitol Police security detail for nearly a year because of the threats against her — protection few rank-and-file lawmakers are assigned. She no longer provides advance notice about her Wyoming travel and, not welcome at most county and state Republican events, has turned her campaign into a series of invite-only House parties.
What's more puzzling than her schedule is why Ms. Cheney, who has raised over $13 million, has not poured more money into the race, especially early on when she had an opportunity to define Ms. Hageman. Ms. Cheney had spent roughly half her war chest as of the start of July, spurring speculation that she was saving money for future efforts against Mr. Trump.
Ms. Cheney long ago stopped attending meetings of House Republicans. When at the Capitol, she spends much of her time with the Democrats on the Jan. 6 panel and often heads to the Lindy Boggs Room, the reception room for female lawmakers, rather than the House floor with the male-dominated House G.O.P. conference. Some members of the Jan. 6 panel have been struck by how often her Zoom background is her suburban Virginia home.
In Washington, even some Republicans who are also eager to move on from Mr. Trump question Ms. Cheney's decision to wage open war against her own party. She's limiting her future influence, they argue.
"It depends on if you want to go out in a blaze of glory and be ineffective or if you want to try to be effective," said Senator John Cornyn of Texas, who has his own future leadership aspirations. "I respect her but I wouldn't have made the same choice."
Ms. Cheney is mindful that the Jan. 6 inquiry, with its prime-time hearings, is viewed by critics as an attention-seeking opportunity. She has turned down some opportunities that could have been helpful to her ambitions, most notably proposals from documentary filmmakers.
Still, to her skeptics at home, Ms. Cheney's attacks on Mr. Trump have resurrected dormant questions about her ties to the state and raised fears that she has gone Washington and taken up with the opposition, dismissing the political views of the voters who gave her and her father their starts in electoral politics.
At a parade in Casper last month, held while Ms. Cheney was in Washington preparing for a hearing, Ms. Hageman received frequent applause from voters who said the incumbent had lost her way.
"Her voting record is not bad," said Julie Hitt, a Casper resident. "But so much of her focus is on Jan 6."
"She's so in bed with the Democrats, with Pelosi and with all them people," Bruce Hitt, Ms. Hitt's husband, interjected.
Notably, no voters interviewed at the parade brought up Ms. Cheney's support for the gun control bill the House passed just weeks earlier — the sort of apostasy that would have infuriated Wyoming Republicans in an era more dominated by policy than one man's persona.
"Her vote on the gun bill hardly got any publicity whatsoever," Mike Sullivan, a former Democratic governor of Wyoming who intends to vote for Ms. Cheney in the primary, said, puzzled. (Ms. Cheney is pushing independents and Democrats to re-register as Republicans, as least long enough to vote for her in the primary.)
For Ms. Cheney, any sense of bafflement about this moment — a Cheney, Republican royalty, being effectively read out of the party — has faded in the year and a half since the Capitol attack.
When she attended the funeral last year for Mike Enzi, the former Wyoming senator, Ms. Cheney welcomed a visiting delegation of G.O.P. senators. As she greeted them one by one, several praised her bravery and told her keep up the fight against Mr. Trump, she recalled.
She did not miss the opportunity to pointedly remind them: They, too, could join her.
"There have been so many moments like that," she said at the bank, a touch of weariness in her voice.


Read the full article here