African-American Chamber of Commerce: Registration Deadline Approaching: Free Business Accelerator Seminar
AACC President & CEO Named City & State PA's Power of Diversity: Black 100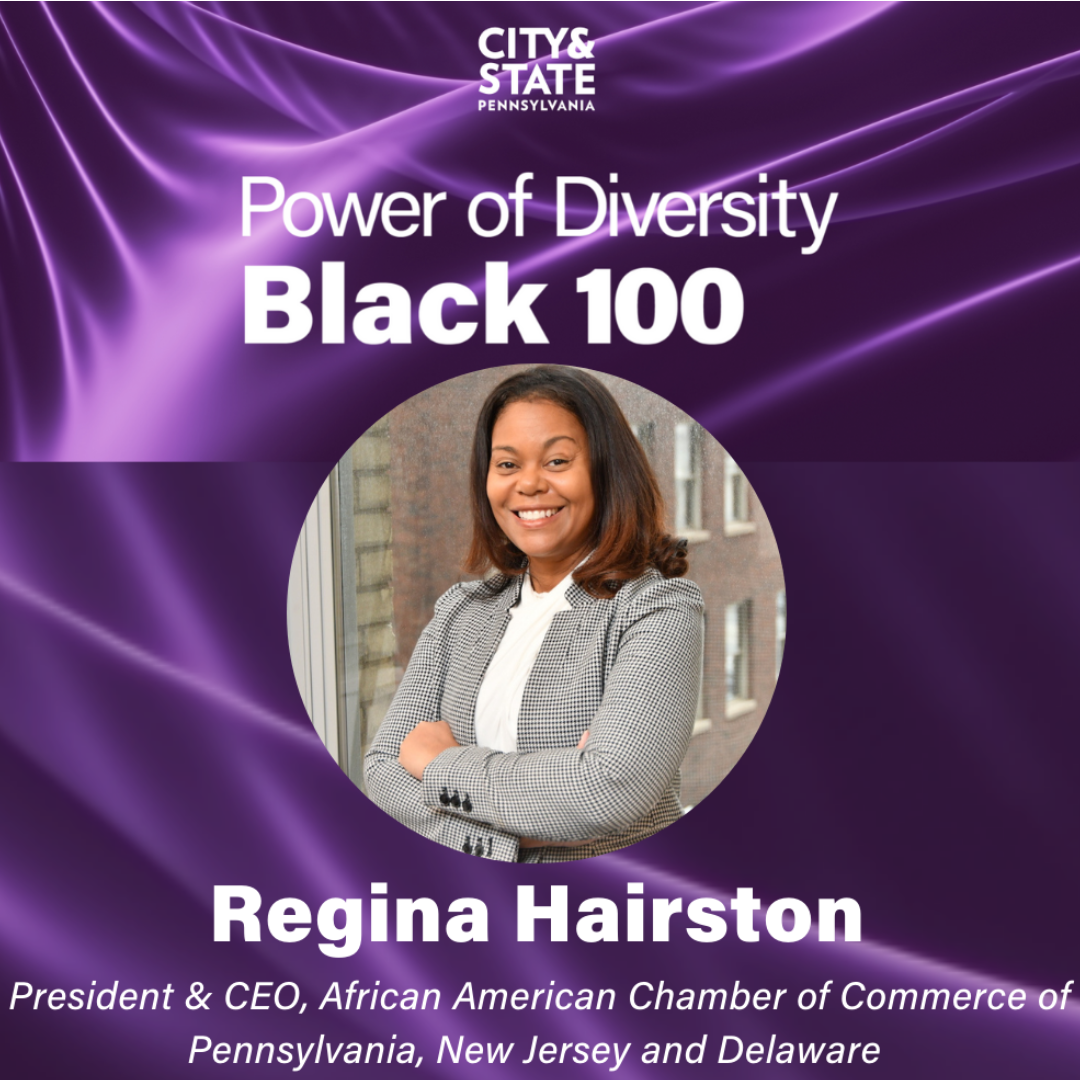 City & State
, the premier multi-media news firm that dedicates its coverage to Pennsylvania's state and local government, political and advocacy news, published its must-read list of Pennsylvania's Power 100 most influential elected officials, labor unions, advocacy groups, political consultants, lobbyists, media personalities, and business leaders of 2022. The AACC is honored that our leader, President & CEO Regina A. Hairston is among this year's featured leaders.
Registration Deadline Approaching: FREE Black Business Accelerator Seminar on February 24th
In partnership with Drexel University, the AACC is proud to host its first Economic Empowerment Seminar of 2022 — The Black Business Accelerator! As part of the Chamber's 'Reimagine, Reset and Reinvest for a Sustainable Future' series, AACC Members get access to a collection of programs designed to engage, enlighten and empower their business.
The February Black Business Accelerator will provide black businesses with the opportunity to:
Learn About New Grants and Funds Available for Black & Brown Businesses
Hear Opportunities From Anchor's Who are Looking to Work With More Black-Owned Business
Get to Know Business Development Cohort's, That are Free and Designed to Help You Get To the Next Level
Learn Successful Strategies from Businesses that Have Experienced Growth During the Pandemic
7th Annual Jefferson Salutes Martin Luther King, Jr.'s Vision: Special Conversation with Exonerated Five
Join our partners at Jefferson to hear from Mr. Yusef Salaam and Mr. Raymond Santana who were both tried and convicted in the Central Park jogger case along with three other Black and Latinx young men. They are part of the Exonerated Five who spent between 7 to 13 years behind bars for crimes they did not commit, until their sentences were overturned in 2002.
DATE: Wednesday, February 23, 2022
TIME: 12:00noon–1:30 p.m.
The Clean Energy Accelerator Program supports small businesses in Philadelphia focused on clean, green, and renewable energy. The program is open to women and minority-owned small businesses in the clean energy space. Eligible expenses up to $25,000 will be covered for program participants, such as focus group costs, conference fees, accounting or legal fees, incubator fees, and grant writing support
To apply, please email Jamie Shanker-Passero at jamiesbdc@temple.edu by March 30th.
Grant assistance for PECO Commercial Natural Gas Customers impacted by Covid-19 pandemic
Small businesses affected by the pandemic can now apply to receive a one-time grant of $500 towards their existing PECO natural gas account.  The grant will be applied directly to your bill and will lower current outstanding balances or provide a credit for future charges.

To be eligible, applicants must have an active PECO gas account on or before March 31, 2020, take service under Rate GC (gas commercial service), have fewer than 25 employees, and have experienced financial hardship resulting from the pandemic. Each commercial gas business is eligible for only one grant, regardless of the number of gas accounts listed under the business name.
SMALL WINS!
Competition for Small Businesses
CBS3 and The CW Philly has launched the Small Wins! competition to support women and minority-owned small businesses who have been impacted by the Covid-19 pandemic. Small Wins! will award a total of $300,000 in on-air advertising and cash grants to small businesses from Philadelphia and its suburbs.
SBA EIDL Funds: Are you having trouble securing funding?
We are working diligently with the SBA to ensure all AACC Member businesses that qualify for EIDL funding receive the support they need. If you have been experiencing trouble securing EIDL funds, please email 
membership@aachamber.org
 so we can connect you with our SBA representative to assist you.
Looking for a Black Florist?
AACC Member Holistic Arrangements Featured in The Philadelphia Tribune  
"I love seeing customers faces after giving them flowers for the people that they're gifting it to," said Ciera Martin, who owns Hollistic Arrangements. "It's really just the joy through the gifting of flowers. That is the slogan and that is what I do."
While pursing her undergraduate degree at Penn State Abington, Martin developed an affinity for flowers while working in the floral department of a local Whole Foods market in 2019. She left Whole Foods in March 2020 to focus on her full-time job in education and started creating flower arrangements to build her portfolio.
WE WANT TO HEAR FROM YOU!
AACC Members, Share your stories! Do you have exciting news or important updates about your business? Email your story to fharris@aachamber.org with any pictures and videos for a feature in our newsletter and social media platforms!
Members of the AACC become part of an extensive network of corporations and businesses, and are able to engage with policy-makers and business leaders across the region. In addition to exposure to valuable marketing opportunities, members participate in programming that enables them to build a powerful network that helps their businesses grow.
Copyright © 2021 African-American Chamber of Commerce, All rights reserved.
Our mailing address is:
One Penn Center
1617 JFK Boulevard, Suite 889
Philadelphia, PA 19103